Module "WORD Roundtrip"
We call Word Roundtrip an intelligent comparison feature, not only because it allows a user to compare SD and Word documents, but also to merge changes made in Word into SD, preserving the complete document and comment history in SD.
Involving stakeholders in the voting process can not always guarantee that all contributors can or will work with SMASHDOCs. That's why we developed Word Roundtrip.
Despite the complexity of the feature, its ease of use allows the individual user to make all the desired changes in the usual way in the Word document. You can then compare this Word document with the existing SD document and evaluate the changes in the comparison report.
Intelligent comparison process at one glance:
select the new option "Compare" in a SMASHDOCs document.
select documents for comparison by either
dragging and dropping a Word or sdox file in the dialogue or
searching a sdox or Word document on his computer or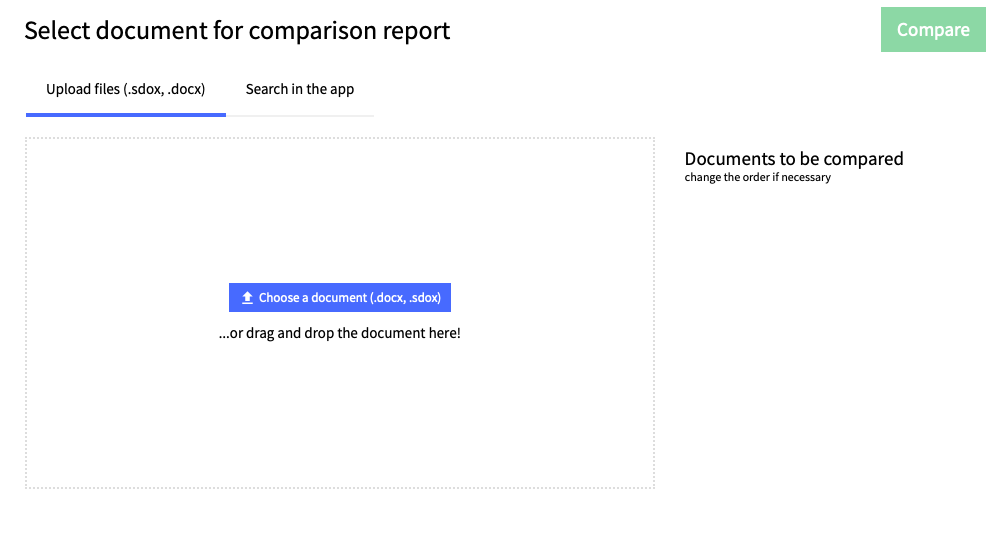 searching a SMASHDOC document in his SMASHDOCs app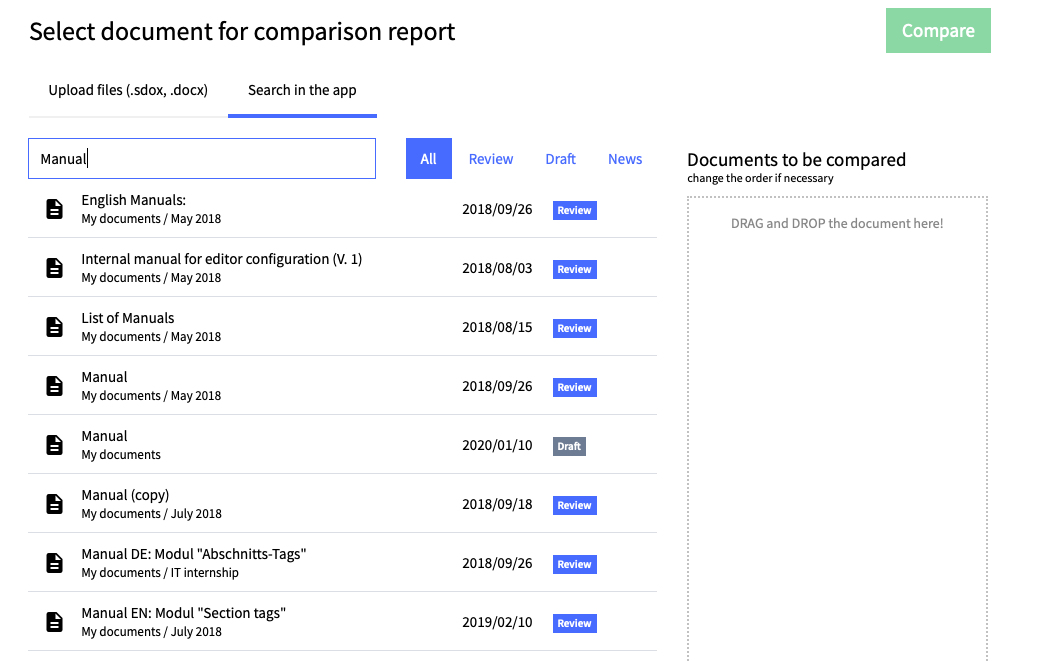 Pre-selected documents are shown in a list. A user can change the order in that list or delete a pre-selected document from this list before he starts the comparison process.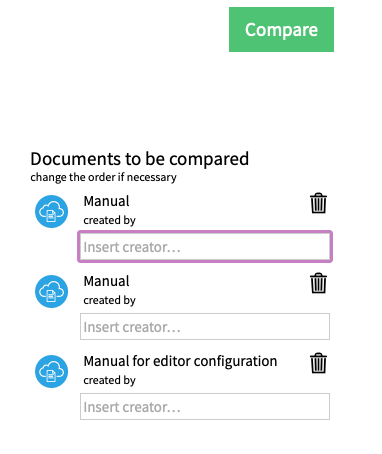 A user can also cancel the process by clicking on the "X" button (in the right upper corner). In this case, all files the were chosen for comparison will be deleted, so the list is empty when the user starts the comparison process again.
Comparison report
After clicking on the "Compare" button, the comparison report will be displayed. It examines two documents and informs the user of the similarities and differences between them. Hence, not only are all the gaps being respectively highlighted, SMASHDOCs automatically scrolls to the first change in the comparison report.
The user is now able to understand changes to the following types of information:
Images and image captions
Tables and table captions
Weblinks - if the URL is not the same as the label and the URL has been changed
Change of inline and paragraph styles
Change of numbering level to a text section
Exemplary presentation of a comparison report:
For the "Merge" button to be shown in the comparison report, the document in SMASHDOCs has to be in the review state. Then you can click on the "Merge all" button in the right upper corner to merge all the suggested changes into the main document. If you only want to accept some of the suggested changes, then click on the "Merge" button near the relevant sections.
In case you compare three and more documents, the "Merge all" button appears next to each child document. Once you click on it, all changes from the document will be implemented into the first "master" document.
As a result, you will get the SMASHDOC, where all merged changes become unseen and should be decided upon.