Module "Bibliography"
A bibliography is a list of all of the used sources (whether referenced or not) in the research process such as books, articles, records, speeches, interviews, websites, etc. In general, a bibliography entry includes:
the dates the copies were published
The bibliography usually appears at the end. But in SMASHDOCs you can indicate yourself, where exactly in the document it should be placed as bibliography is a free positionable list of citations.
There are three options to create a new bibliography in SMASHDOCs:
click on the "Citation" button in order for Bibliopgrahy Management Page to appear and select "New bibliography".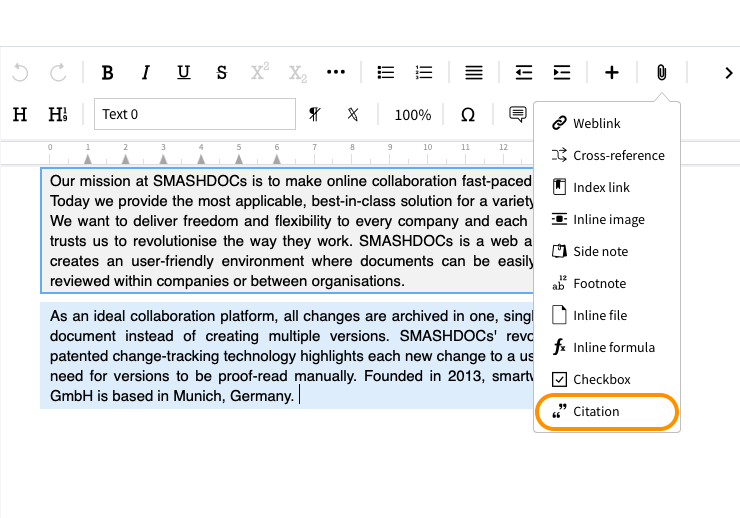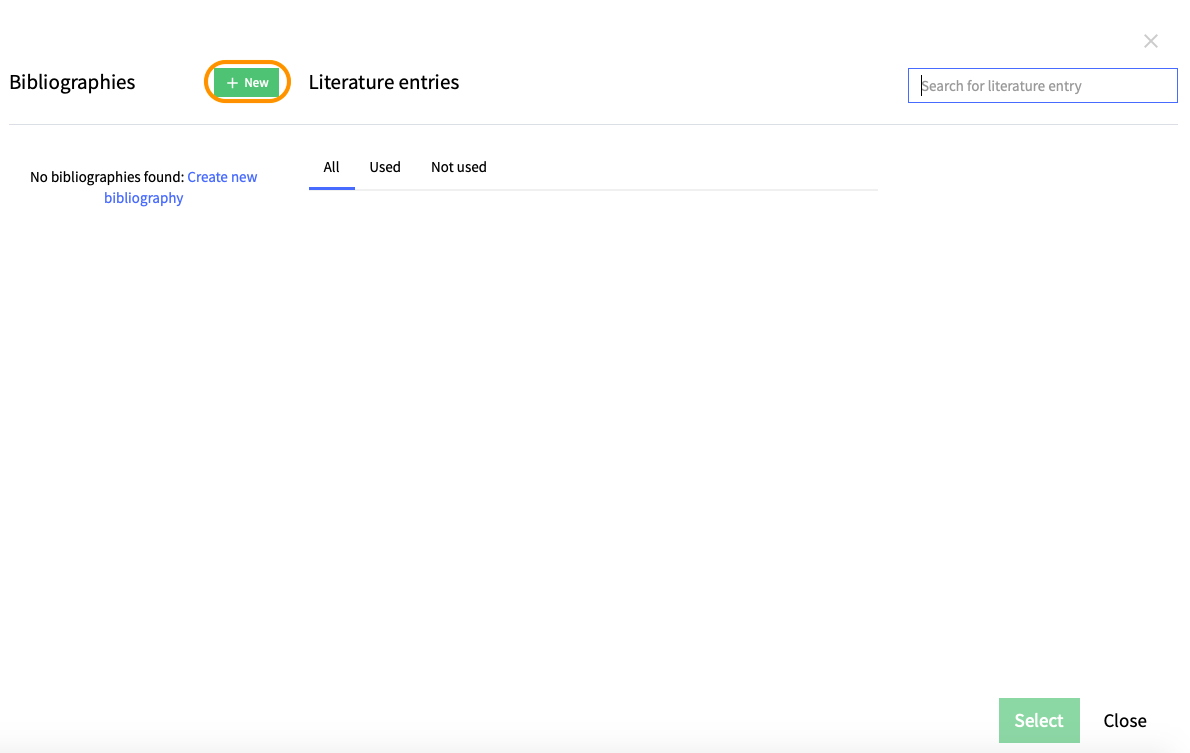 go to the list of bibliographies, click on the "Citation management" button for Bibliography Management Page to be displayed and then select "New bibliography" (see

Image 2

)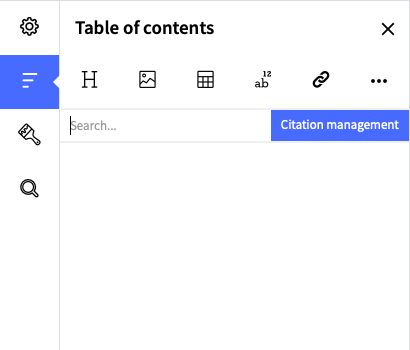 go to documents settings, click on "Edit" button near Bibliography and then select "New bibliography" (see

Image 2

)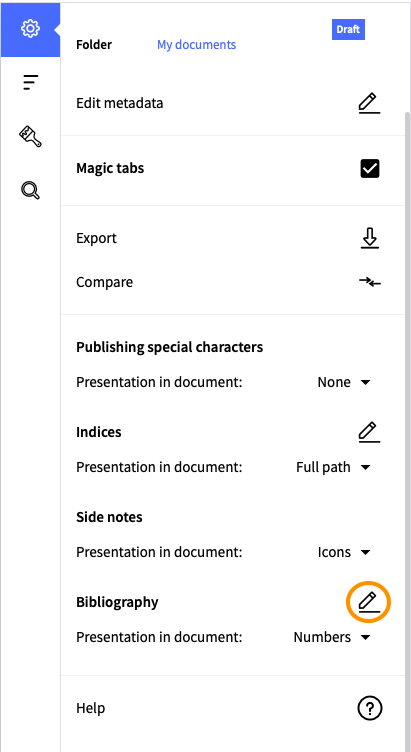 The number of bibliographies alongside the number of citations in the bibliographies to be created is not limited in SMASHDOCs.
Bibliography entries must be written in a very specific format, that depends on the particular style of writing followed. For instance, for most academic papers it will be either MLA, American Psychological Association (APA) or Chicago. ISO 690, on the other hand, is an ISO standard governing bibliographic references in different kinds of documents. Here`s an example:
MOORE, Keith L., AGUR, A. M. R. and DALLEY, Arthur F. Essential clinical anatomy. Philadelphia: Lippincott Williams & Wilkins, 2011. (ISO 690)
In order to create a bibliography, title and citation style are to be entered.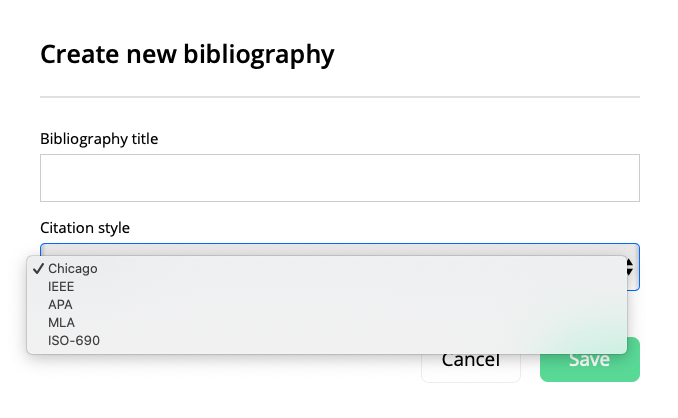 Please note that addiotional citation styles can be configured upon request.
After bibliography has been created, next step is to create citations by clicking on "New citation" button.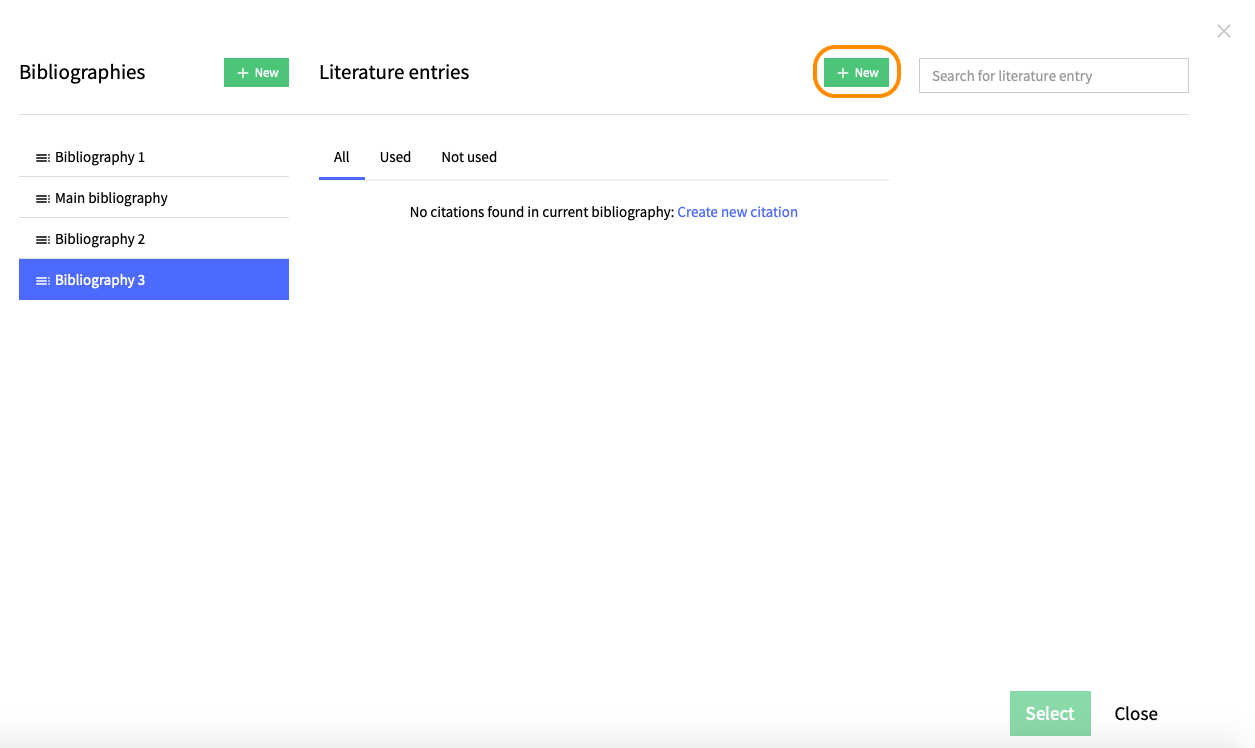 The creation of an entry can be done by:
Manual input (form-based)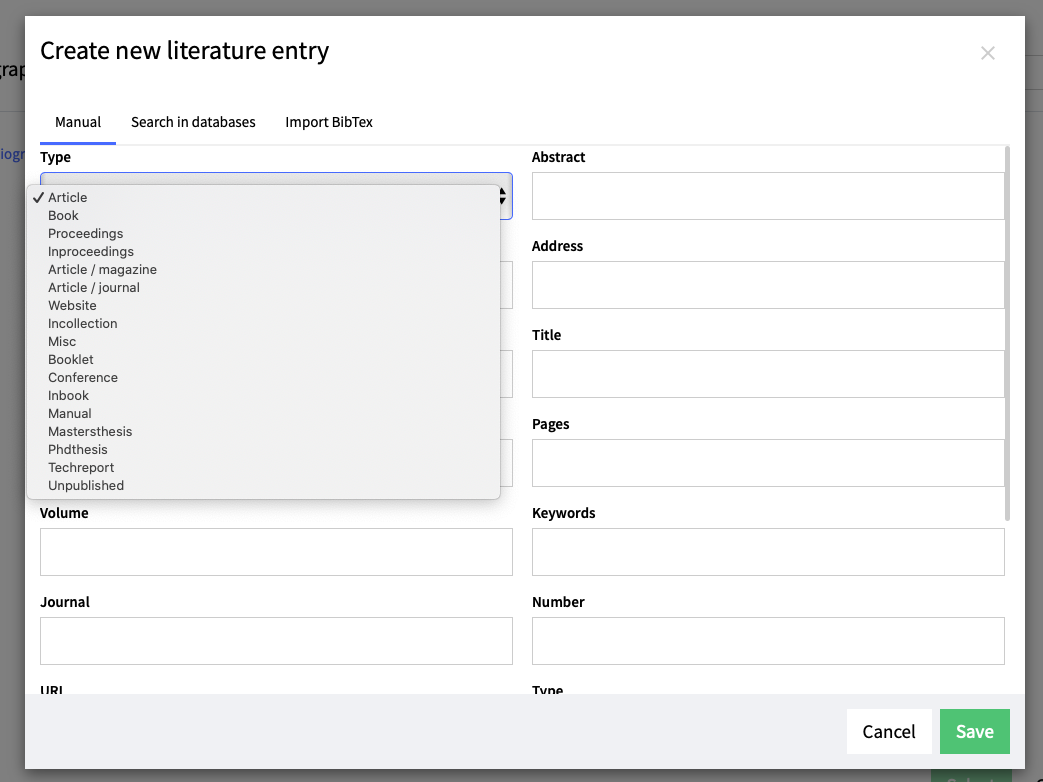 Search in Crossref database (general sphere)
Search in Pubmed database (medical sphere)
You can receive reference sources just by inputting a search phrase. And if both databases are activated, the search results will be combined both from "Crossref" and "Pubmed".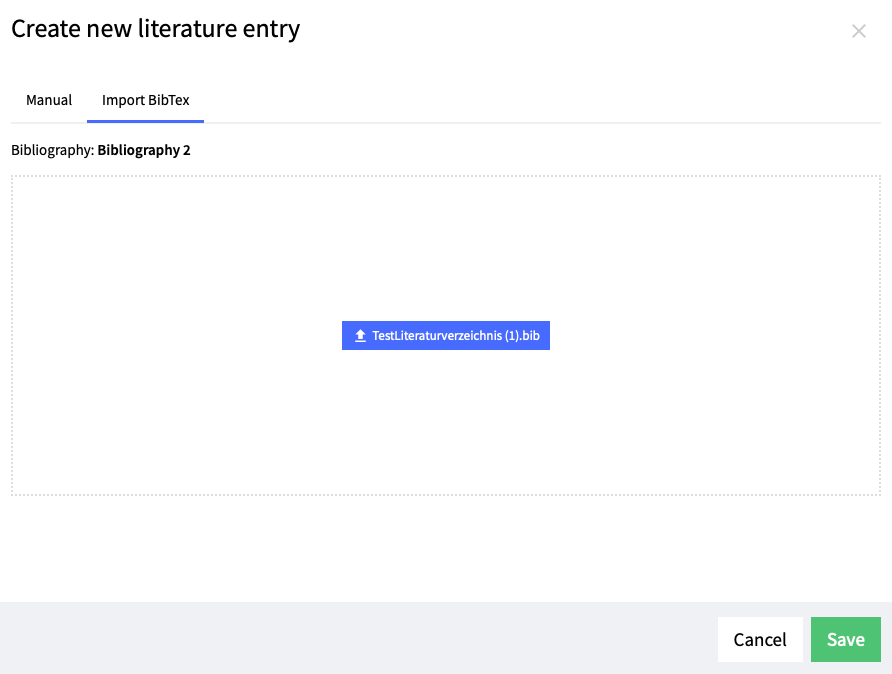 After litarature entries are created or imported, you can select one or a few of them and insert in the text. After insertion, such literature entries get the tag "Used". Respectively, all entries are divided into tree groups: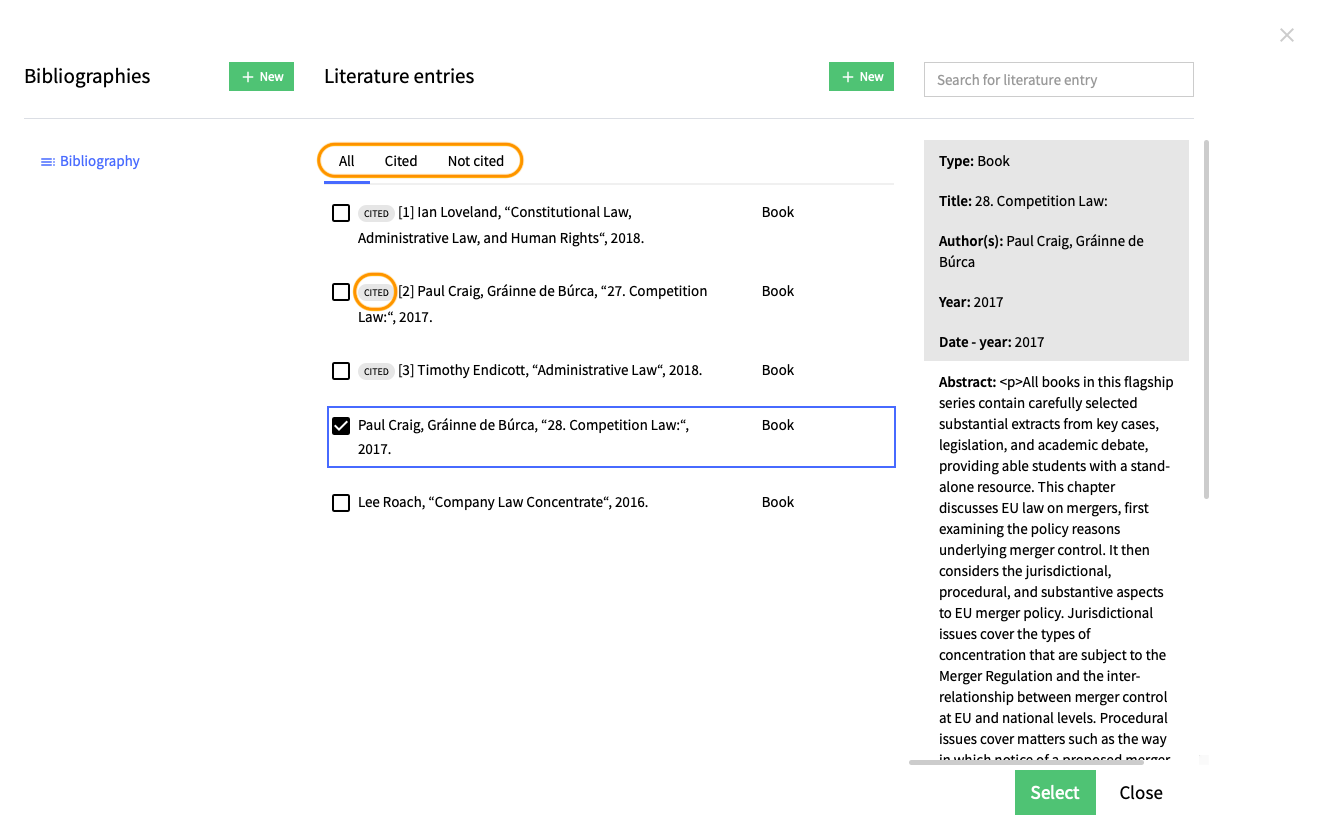 On the bibliography management page, you can see:
all bibliographies in the document (1st column),
all literature entries of a bibliography (2nd column) and
all details to a selected literature entry (3rd column).
You can also search for a specific literature entry in the search field at the top right. If the search term repeats itself in literature entries from different bibliographies, citations including such search term will be found in all of those bibliographies.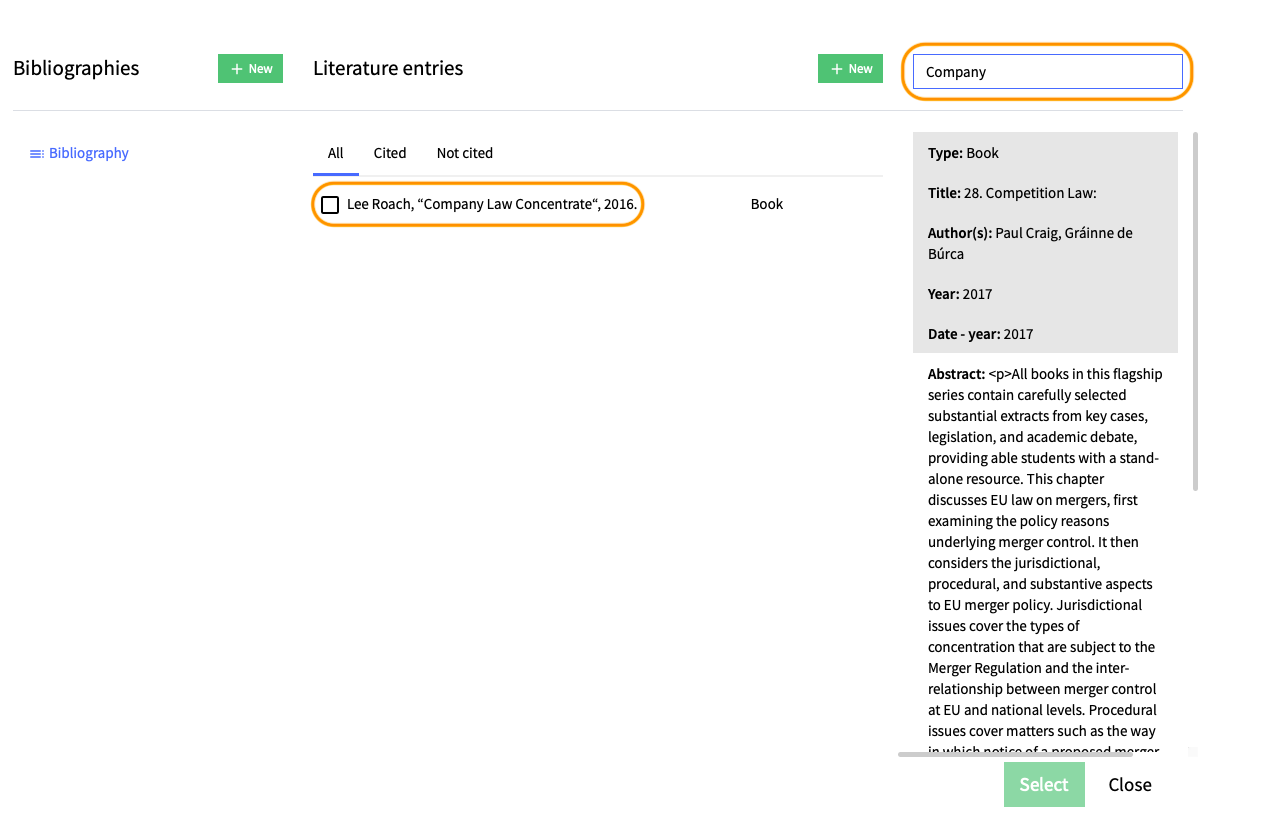 This is how literature entries with citation style "IEEE" look like in the text: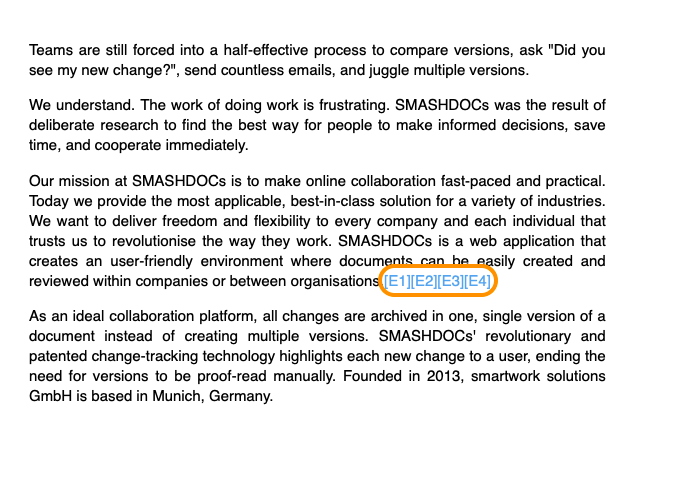 Apart from selecting literature entries, you can edit or delete them both from:
the bibliography management page and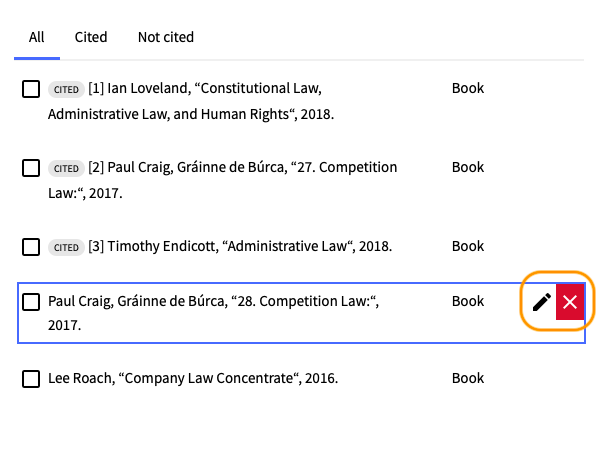 from the list of citations used in a paragraph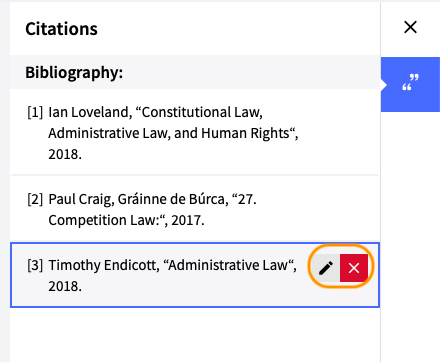 Before deleting the citation, SMASHDOCs will always make sure you really want to delete it.

Created bibliographies that can be inserted in the text are to be found in the list of directories.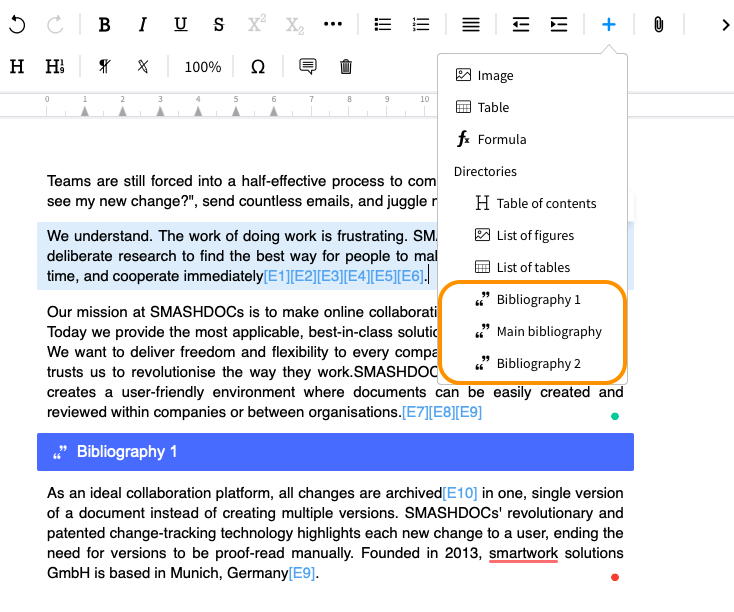 Bibliography is also available in the table of contents. In this case, only bibliographies already used in the document are being displayed.
Once you click on the bibliography in the table of contents, all citations from this bibliography will be displayed alongside the number of times they were used in the document. If you click on that number, it will lead you to the text section where it was inserted.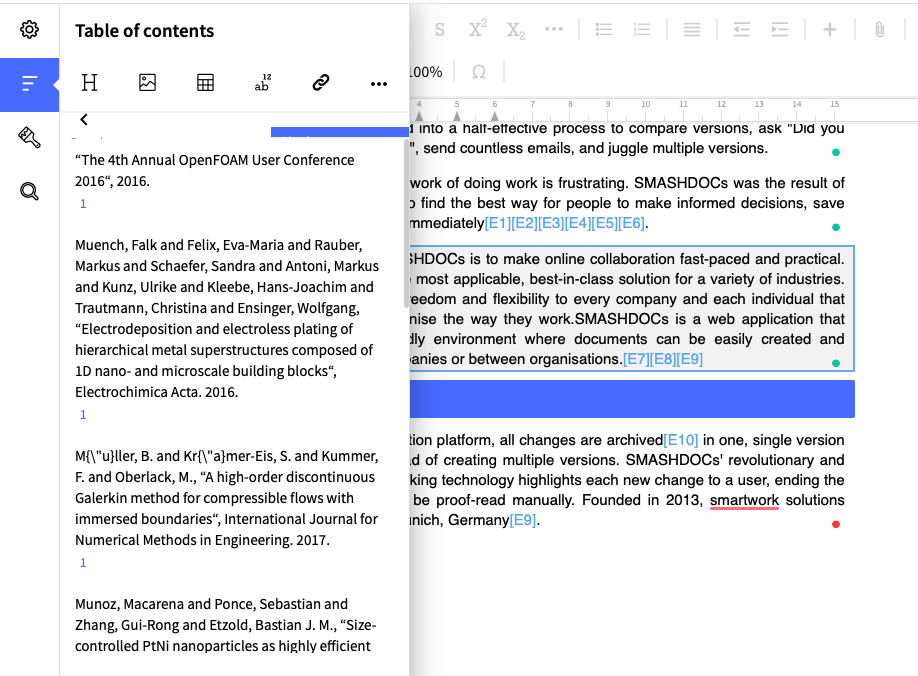 The presentation of literature entry in the document can also easily be controlled in SMASHDOCs. To change its layout, go into the document settings. There you can choose whether it should be displayed with numbers or not to be displayed at all.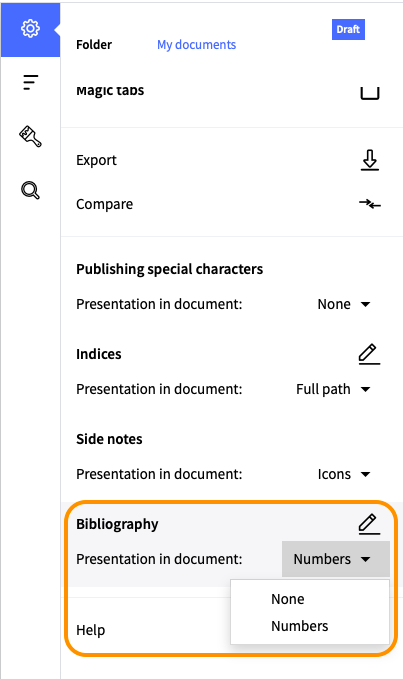 Bibliography can also be deleted by going to the Bibliography Management Page as described above.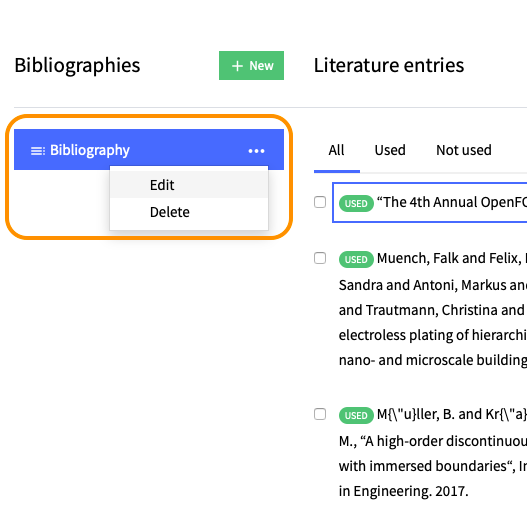 In this case, you will also be cautioned by SMASHDOCs that bibliography is to be deleted and whether you are sure about it.